Franchise With Us
Our Programs
A Home for
Fearless Opportunity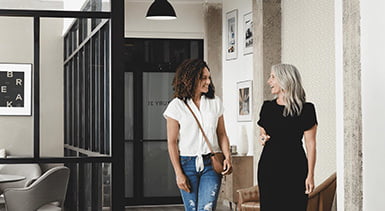 Potential Can Come from Anywhere. We Want to Be Where It Thrives.
The real estate industry is full of challenges no matter who you are. Which is why the CENTURY 21® Brand is focused on making sure its affiliates have the resources and support they need to help them achieve their business goals.
Own Your Future
---
The dream of owning your own brokerage is one that the CENTURY 21® Brand can help you turn into a reality. Together we can get you started off strong with incentives to attract top agents to your company. And along the way you'll take advantage of access to extensive learning and professional development geared toward building entrepreneurial skills. Plus, attend national events to network and learn from fellow CENTURY 21® affiliated franchise owners like yourself.
What We Offer
Your own CENTURY 21® Growth Consultant to assist in developing a business plan.

CENTURY 21® International Leadership Academy to help develop the skills to be a business owner prior to your launch.

CENTURY 21® Onboarding Team to help coordinate a seamless launch.

Integration of the CENTURY 21® Brand into your new business.

PR campaign assistance to introduce and promote your brokerage.
Making an Industry For All
---
Instead of ignoring or perpetuating the barriers that exist in our industry, we believe in finding opportunities to dismantle them once and for all. Through our inclusive ownership program, the CENTURY 21® Brand provides financial and program incentives to help brokers from underrepresented backgrounds grow their businesses and enjoy extraordinary results.
What We Offer
Eligibility for financial incentives

Waiver of initial franchise fee

Business mentorship

Diverse market coaching

Discounted brand leadership development experiences

Industry diversity partner benefits (NAHREP®, NAREB®, AREAA, LGBTQ+ Real Estate Alliance)
Ready to Make a Change?
Let's get started on making a plan to take your business to the next level together.