Traditionally, spring and summer corner the market on bold, bright colors, with fall and winter ushering in richer, more muted tones. However, this year's popular colors, featured in Shutterfly's Hottest Hues Guide, have a versatility that helps enhance decor year-round. Incorporate pops of modern color trends into everyday home accessories to warm up your house and your heart in the cool days ahead.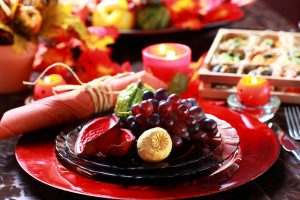 1. Set a Color-filled Table
'Tis the season for holiday dinners, and your dining room table is the perfect place to fill your room with color. Saturate your tablescape with chargers, plates, placemats and napkins in festive colors. Deep reds and burgundies are not only perfect for the holidays, but they add warmth to your tablescape throughout the winter season. But don't limit yourself to the standard red and green—get creative with color palettes as you set your table, bringing in metallic and unexpected shades for a dose of fun!
2. Patch it Together
Invite color to visit by adding seasonally inspired throw pillows or a practical and colorful quilt to your couch or bed. Think outside of your regularly colored box, and experiment with contrast to create a cozy space without committing to a color scheme.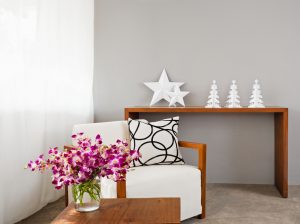 3. Bring the Outdoors In
Flowers lend a festive touch as well as a hint of brightness to any area. A bold spray of pink orchids or peonies can add a pleasantly surprising shock of color to a sleek neutral winter space. Just because it's winter doesn't mean you're stuck with poinsettias. Pale pink is enjoying a comeback in the design world as a romantic neutral with a range of versatility—and rose quartz just happens to be one of Pantone's colors of the year for 2016. As interior redesign specialist Wendy Wrzos says, "In fall, it can be paired with a rich brown and cream. In winter, a touch of pale pink will add a cozy warmth to a room, or be an unexpected addition to the more saturated colors." Pick your palette from a favorite bouquet for a touch of color you already love.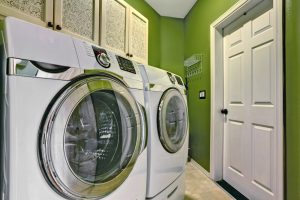 4. Live a Little Large
Bring big color to a small space by painting your laundry room a bold color for brightness you can enjoy all year round. "The laundry room is a room that gets used all the time, and it is rare to see one that has been decorated. A painted wall and a colorful rug takes no effort at all, and will cheer it up in an instant." —Wrzos advised. Use a small, out-of-the-way area to be brave with a shade that brings you joy when you see it.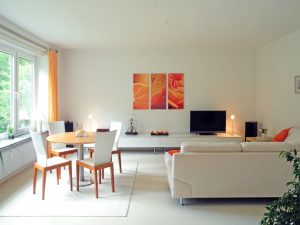 5. Hang It Up
The artwork in a room is often a focal point and the perfect place to feature color. With a foundation of neutral furniture, flooring, and walls, art and decor accessories can take center stage. Create a canvas or three-panel piece of art from a nature-inspired vacation photo and select a matching color palette to complement your art work. If you're looking for a more seasonal do-it-yourself option, wrap poster frame inserts in pretty wrapping paper for a temporary triptych to match your holiday decorating scheme.
Between bad weather and Daylight Savings Time, winter feels dark enough. Fill your life with brightness all year round by incorporating color in easy, unexpected ways and bring a little more boldness and brilliance into your everyday world.
About the Author
Ashley McCann shares home décor tips for Shutterfly.com. She is a mom of two and enjoys reading and karaoke. For more from Ashley, you can find her on Twitter.