It's officially fall! Break out your sweaters, boots, hot apple cider, and other fall essentials. Make your home cozy and comfortable so you can enjoy family game nights, carving pumpkins, and curling up with a good book.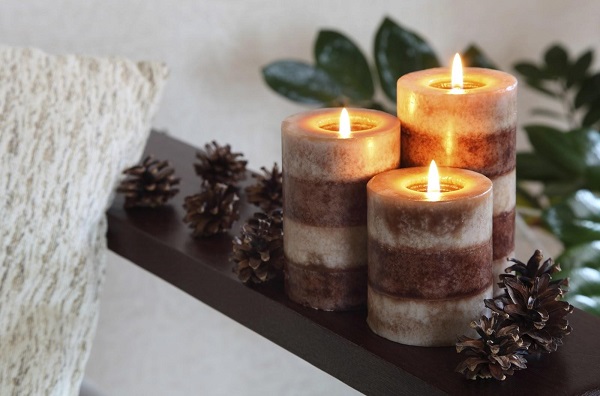 Use these tips to make your home snug and homey.
1. Candles: Lighting a candle, especially one that gives off a fall scent, such as pumpkin or apple spice, will help you relax after a long day. Scented candles fill a room with a sweet or spicy aroma, give an extra bit of light, and add a calming effect to your house. They instantly make any fall night cozier. (For safety never leave burning candles unattended).
2. Plush throw blankets: Placing a fleece or knitted blanket on your couch will instantly add a warm feeling to your home. Curling up under a blanket on a cool night, while your scented candles are lit, makes all the difference. As an added bonus, this is a great way to add color and decoration to your furniture.
3. Switch your curtains: During the summer months, you keep your window treatments as light as possible to cool off your home. Now with a cold breeze in the air, warm up with a heavier material. This adds natural warmth and coziness to the room. Go the extra mile and make the curtains a deep, warm color like chocolate brown to really bring the season into your home.
4. Add a fabric table runner: Sitting down at your dining room table can sometimes feel too formal and bare tables don't add anything extra to the room. Change the dynamic by adding a seasonal table runner. This brings a homely feel and makes any family dinner feel more festive.
5. Layer your area rugs: Putting more than one area rug in a room will give an added cushion, perfect for lounging on the floor and watching television on a chilly night. More than one rug also means more warmth so the chill that wooden floors bring won't be an issue this season. Opt for a color like orange or brick red to tie the look together.
Incorporating these fun, cozy fall ideas into your home is a great way to change up your decor, while also creating the perfect atmosphere for you and your family. Now pour some hot chocolate or hot apple cider and gather around for game night.