How can my clients add style to their entryways?
-Jan Maness, CENTURY 21 Real Estate Group, Alcoa, Tennessee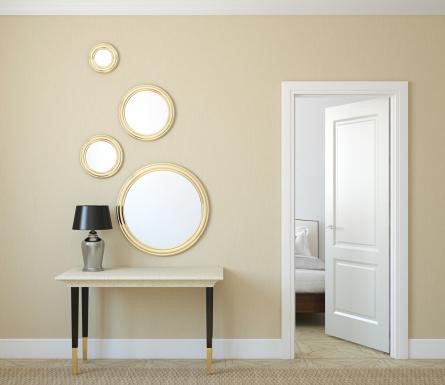 While they may only be pass-through spaces, entry halls allow you to show your style while offering a glimpse of what's to follow.
Here are a few tips:
Establish the Home's Theme Immediately: If your entry hall is visible to several other spaces, its décor should create a seamless transition from room to room. Meaning, don't decorate your entry hall as if it were an island.
Flip-flop Paint Trick: Reverse wall and ceiling colors from a visible nearby room into the entryway. But keep the trim color the same for visual continuity.
If You Can't Build Out, Build Up: Though the footprint may be small, entry wall space is usually significant. So don't be afraid to merchandise it floor-to-ceiling. Wall mounted shelves and picture ledges can start from 3 feet above the floor to within 2 feet of the ceiling. Framed art can tell your story while a collection of frames adds architecture to the space. Mirrors in interesting frames can help to visually expand smaller entryways.
Think "Hotel Entrance:" A small, round central table offers a place to locate a large vase of flowers, or a great palm tree that jets upward, helping to add a living element and more drama.
Include Fabric: Texture-driven materials from surrounding rooms help to integrate the entryway into the overall home design scheme. Small-upholstered pieces and drapes also help make hollow acoustics more intimate. You can do it!
Christopher Lowell, an interior designer and Emmy Award-winning TV host, is known for doable design advice that nets stunning results.