Hosting friends and family members means that you get to spend quality time with people you love. Make your guests feel at home.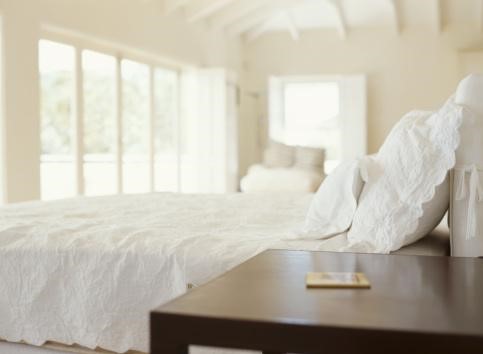 These tips will help you style a guest room that they will love (yes, even your in-laws).
Minimal Style:Your guests may have different home decor preferences than you. We recommend choosing a soothing color scheme for paint, bedding, and furniture. Neutral paint colors will create a soothing space.
Comfortable Bedding: A bed is a focal point of any bedroom and it is essential for getting a good night's sleep and maintaining a healthy lifestyle. Some people prefer hard pillows and mattresses and some prefer softer. We recommend choosing ones that offer medium support so that guests at either end of the preference spectrum will be comfortable. Once you've chosen a mattress and pillows, make the bed with soft bedding that your guests will love to sink into at the end of a long day.
Nightstand: Stock the nightstand with essentials that your guest may need during his or her stay. If you have makeup, shampoo, conditioner, face wash, and soap samples, put them in a small makeup pouch for your guest to use if they accidently left anything at home. If you don't have samples you can place full size bottles in the bathroom for them to use as they get ready. Keep a few books on the nightstand in case they want to read before bed but didn't pack a book. You may want to add extras like fresh flowers, a candle, and an alarm clock.
Closet and Dresser: If you have space for a dresser, add one to the room so that your guests can unpack and organize their clothes and essentials. Stock the closet with a few hangers.
Towels: Place towels on the bed so your guests have something to use when they get ready.
These guest room essentials will ensure that your guests have a comfortable stay when they come to visit.