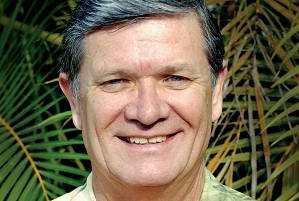 Beginning today, July 1st, CENTURY 21 All Islands is celebrating Military Appreciation Month. As part of this celebration, the office will provide a 25% commission rebate to any individual who has served or is serving in the U.S. Military, including the Coast Guard. This benefit applies to both buyers and sellers. We sat down with President and CEO James Wright to learn about this month's promotion.
C21: How did you decide to celebrate service men and women in this way?
JW: We picked July because of Independence Day, but also because Hawaii has a huge military presence – both military bases and retired service members. Once they've served here in Hawaii, they like to come back. They travel the whole world and find Hawaii is the most idyllic climate. They come here to relax, play golf and enjoy the weather. Old, creaky bones are a lot happier here.
C21: For first time buyers, how do you explain the promotion?
JW: When we explain our agency disclosures, as we always do, this will be a part of that conversation. We will take them through the whole process. We show them if we got you X on this, you'd get Y dollars back. Lastly, we detail exactly what we'll be leaving in escrow for them.
C21: What percentage of your clients have served?
JW: If you served, we have a deal for you. Our Waikele office is closer to the military bases so they probably have at least 20% of their business coming from the military. I'm sure our firm has at least 5%. A lot of people come from the west coast to buy a second home here.
C21: Have you set a goal for how many families you'd like to reach with this promotion?
JW: We're happy to help whoever we can – 100 families or 1,000 families – we'll help as many as we can. We're trying to do something nice that benefits them financially.
C21: CENTURY 21 All Islands specializes in Hawaii real estate and has 10 offices state-wide with approximately 300 agents, brokers and staff. The firm is headquartered at Hawaii Kai, Oahu. To learn more about the Military Appreciation Month program, visit this website.