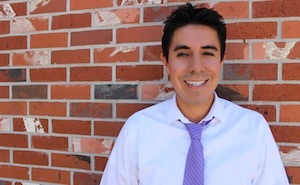 Those who attended the CENTURY 21 Global Conference at Planet Hollywood last year, may remember Social NetworX CEO and President, John Reyes. John held several professional development sessions at last year's event, all highly praised by the attendees.
This year he is back in Las Vegas and you have two opportunities to learn from his experience:
Managing Your Online Reputation
Wednesday, March 19th, 1:00pm – 1:50pm
Better Yourself, Hone Your Skills … And Make More Money Because of It
Wednesday, March 19th, 2:10pm – 3:00pm
John and his team established Social NetworX to become an industry leader by providing the very best training in the business. As a result Social NetworX has gained national recognition and has served as the official Social Media Training Organization for the California Association of REALTORS (Education) for 2011-2012.
John has spoken at various trade organizations including: AREAA, Regional Women's Council of REALTORS, NAHREP and the Escrow Institute of California.
John honed his business skills by being fully immersed in a variety of business areas.  He holds multiple sales records in various industries including: retail; telecommunications; and real estate lending.
Get to know John in this video created just for CENTURY 21 System members:
)
For the full list of training sessions at Conference, click here.