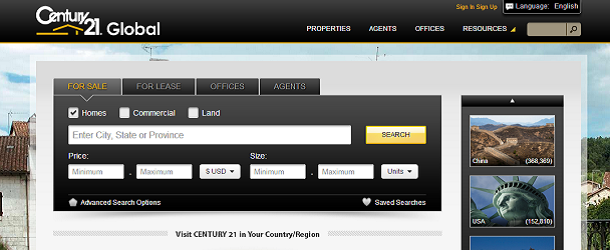 Century 21 Real Estate LLC today announced the launch of a new CENTURY 21® Global Website at century21global.com. The new site will provide consumers with one destination to search for CENTURY 21 property listings from anywhere in the world.
"Property transactions today are occurring from country to country and continent to continent," said Rick Davidson, president and CEO, Century 21 Real Estate LLC. "Through the development and launch of our global website, CENTURY 21 has positioned its over 102,000 sales professionals to collaborate, connect and engage buyers, sellers and investors from around the globe so they may transact business confidently."
The new century21global.com website features include:
Language, Currency and Unit Translation: Content has been translated into 16 languages: English, German, Russian, Japanese, and Korean, Dutch, and Turkish, two versions of Spanish, French and Portuguese, and three versions of Chinese. The site also translates currency and units of measurement based on the consumer's preference.
Localized Content Pages: Each country will have localized content with useful information for foreign buyers to assist them in making informed decisions.
Interactive Map: An interactive map will provide international customers with a visual look at the breadth of the CENTURY 21 System and will show all of the available regions, offices and agent contact information.
Search Capabilities: Buyers can search for offices, agents, residential, commercial and land properties for sale and for rent. The search results can also be filtered by features like property type, and numbers of bedrooms and bathrooms to provide the precise listings that match the buyer's needs.
"The launch of our global website shows our commitment to leveraging the size and breadth of our global sales organization for the benefit of consumers worldwide," said Bev Thorne, chief marketing officer, Century 21 Real Estate LLC. "As the world grows smaller through enhanced connectivity and mobile technology, connecting with homebuyers and sellers on a global scale is easier than ever. Whether our customers are in San Jose or Shanghai, CENTURY 21 professionals will be able to assist them with all of their real estate needs."