Use this color palette to create the spa-inspired look you've always wanted!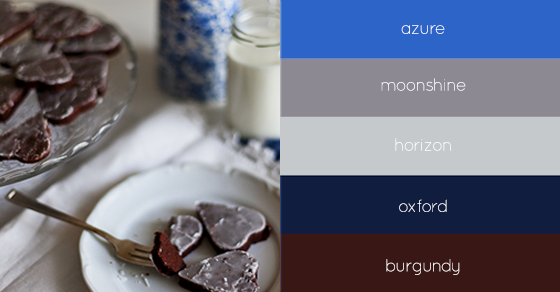 What: This palette was inspired by cookies and ginger jars!
Where: This color palette would be delightful in a bathroom. Light colors make a room feel larger, so paint your walls horizon. Create the perfect base of neutral color for a relaxing suite Paint the tiles shades of moonshine. Buy a burgundy vanity to create a balance with the neutral shades you've incorporated in the room. Add an azure patterned rug and oxford hand towels to tie the look together seamlessly!
Why: This color combination creates a sophisticated, tranquil room that you'll enjoy for years to come. Ginger jars are Chinese jars that were historically used to hold ginger and other spices. Ginger jars are thought to have been from the Tang Dynasty (618-907) (Chapin House). They are commonly used for home decor because of their ability to be used as vases, storage vessels, and purely decorative pieces around the home. They are steeped in history and add a decorative element to the modern home!
For more inspiration, visit A Day in the Garden: Color Palette!