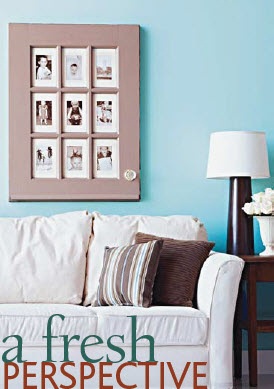 One of the best ways to make a new home feel like your personal place is to display photos of family and friends. Rather than settle on traditional, plain, store-bought frames, consider DIY frames made from repurposed materials. This is an easy project that can make a big impact in your new space.
To get started on these inventive frames, use the weekend to scout flea markets, antique shops or salvage yards for vintage pieces like divided windows or doors. The multiple openings in the panes can serve as host to groupings of family photos.
To take it to the next level, clean, refinish or paint the wood. Choose paint or finishes the compliment your newly selected wall colors or wall paper.
Be sure to wipe down the glass and replace any broken panes before you insert your favorite family shots. Once the photos are secure, choose a wall space to hang your new piece that is out of direct sunlight so the photos do not fade over time.
Select the ideal wall spot and hang! Just like that, your very own custom photo frame.
Have you made any of your own picture frames to display your treasured family photos?