Yesterday the CENTURY 21 team was at Hynes Convention Center in Boston, MA for Inman News' Agent Reboot. The information-packed day of learning is designed to introduce real estate professionals to the social media platforms, tools and apps necessary to increase leads, improve client retention and close more deals.
Inmans News' Chief Evangelist, Chris Smith, started the day by saying, "Do you know what the top sources of income are for the most successful realtors? Referrals, their website and a strong social media presence. Today we'll help you become stellar in all three categories."
With that goal in mind, below you will find the best pearls of wisdom from the day. Cheers to working Smarter.Bolder.Faster.
Client Retention & Referrals
Jim Marks, a featured speaker, started his session by stating, "There are two categories of clients – the ones you are currently working with and the ones you are ignoring." Clearly that is not the most successful way to keep clients in your sphere of influence. Jim continued, "The only way you can keep people in your sphere of influence is through regular conversation. You need to stay involved in their lives. You need to pay attention to what is happening with them and their families."
How do you do that? How to keep tabs on everyone? Jim suggests, "Move your offline connections online. It's easier to keep track of people when you can see their photos, their status updates and you can easily message them. Ask your clients, 'Can I friend you on Facebook?' I bet no one says 'no.'"
On the subject of working smoothly with clients, Chris Smith suggested creating a Google Doc for your current clients. This will allow both you and them to collaborate in one work space where you can share links, listings, photos and ideas. This will cut out a lot of email back and forth. So easy and updates in real time!
Your Website
Throughout the day the Agent Reboot speakers continued to stress the important of a great website for your real estate business. Chris Smith posed it best when he asked, "How many questions does your website answer for people who are going to buy or sell a house?" Consumers are looking to you and your website for information about the most important transaction of their life. Are you meeting that need?
Seth Price of Placester.com talked about the importance of revising your website to increase your lead generation and conversion rates. He asked the audience, "What if you could double or triple your lead generation on your website? Would you want to?" After a resounding "yes" from the crowd he explained that one of the easiest ways to do that is to A/B test. Design a new home page image. Run it for two weeks and see what changes. Add a clearer call to action to the header on your website. Run it for two weeks. See what happens. The more you can test and revise, the more you can convert leads via your website and close more deals.
Another hot topic for the day was mobile optimization for your website. Since the iPhone is now the number one place in the world where people are viewing their email, having a website that looks good on a phone is critical. Chris Smith recommends visit Google's website howtogomo.com to "Go Mo" and make your site mobile compatible.
Chris also recommended visit Google.com/Places to claim your office on the Google Map. This is how you officially register your office on the Google Map and you can add your website and phone number.
Facebook
Facebook was arguably the most discussed topic of the day with almost all of the speakers touching on how to improve your Facebook presence.
Back to the earlier point about bringing your offline connections online, Facebook marketing guru Jimmy Mackin suggested creating a Facebook list to track your MVCs – most valuable connections. You can create lists like "my current buyers" or "Boston prospects" and when you click that list, Facebook will show you just their status updates in one, easy to read stream.
Being able to follow your clients and prospects in such a simple way allows you to easily congratulate them on a child graduating, compliment family photos or "like" a status update they've shared. Facebook lists make it easier to stay in touch with your clients and prospects and stay top of mind as their real estate expert and friend.
Jimmy also suggested connecting all of your online properties to Facebook. He linked his website, Twitter account and blog to his Facebook page and he saw an increase in traffic across all channels.
Later in the day, Katie Lance, Chief Strategist for Inman News, share the importance of having a content strategy for Facebook. Do you ever log in and ask yourself, "What should I post on my business page today?" No more! As Katie put it, "Do you think the anchors on Good Morning America come in every morning and say, 'what should we talk about?' No! They have a content plan."
Katie's best suggestion was to spend an afternoon taking 30 photos around your town. Take photos of your office, your listings, the best coffee shop, the best pizza place and then share one of those photos on your Facebook business page every day for 30 days. One of the best things you can do is talk about what it's like to live in your area, not just post links to your listings.
Linked In
During one of his sessions, Chris Smith talked about two easy ways to use Linked In. First, if you see someone looked at your profile, call them. If they are looking at your professional credentials, chances are they may be looking for a realtor or they may be looking to join your team.  Either way, contact them and find out.
Second, if you see via Linked In that one of your clients or prospects got a new job, congratulate them! Let Linked In help you stay on top of your most valuable connections.
Video Marketing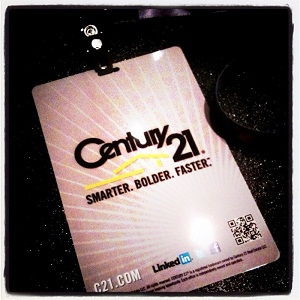 You've been hearing it here on our blog for quite some time, video marketing is critical for real estate. Consumers are starting to expect video tours on listings. Chris Smith shared that, "By 2015, 64.4% of time spent on smartphones will be watching video." That is a huge opportunity to market your listings and your business!
Later in the day we heard from Matt Singer, Founder of Videolicious. He showed us how you can use his app to create a short video where you voice over your listing photos. In fact, he did it right on stage! Very cool and worth a try.
Mobile Apps
Since many of our clients are smartphone obsessed, using mobile apps is a great way to communicate and stay in touch with them. Chris Smith shared a list of his favorite apps:
Chris also recommended connecting with your clients on popular apps like Foodspotting, Foursquare and Get Glue. You both like "Homeland," talk about it!
Reputation Management
Closing out the afternoon, Jimmy Mackin talked about the importance of monitoring your reputation online. He said, "Online everyone has a voice, everyone has an audience and everyone is a critic. You decide what people are saying about you and how you respond." Jimmy suggested using Google Alerts and Social Mention (both free tools) to get alerts when you are being talked about online. This way, you can keep track of who's talking about you and your business and respond accordingly.
Were you at Agent Reboot in Boston? What was the best tip you learned?