Create cozy fall decor from old favorites in your wardrobe. If you can't bear to discard favorite old sweaters that are too small, too big, or too worn, recycle them into beautiful felted-wool pillows.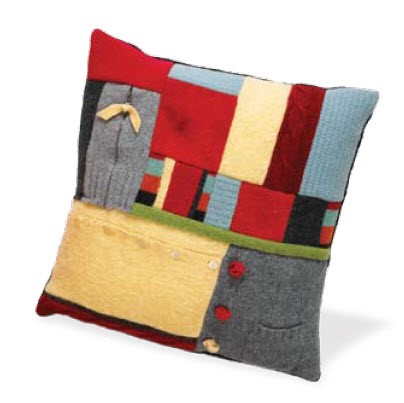 Instructions:
1. Gather several wool sweaters or scarves that you no longer wear. Mix textures and colors for contrast.
2. Wash each color of wool separately in hot—not warm—water. Dry each color separately at the hottest setting. The heat of the dryer will shrink the wool into tight felt that won't fray, even when you cut it.
3. Using a purchased pillow form as your guide, cut one large square or overlap two rectangles for the pillow's back. Pin together rectangles, squares, strips, or circles for the front, adding ribbing, buttons, zippers, or pocket details.
4. Sew the pieces together by hand or machine, or bind them to each other with fusible interfacing. Join the front to the back around the edges, and insert the pillow form. Slip-stitch the opening closed, or make holes for coordinating buttons.
This DIY project is fun and easy, plus it is much less expensive than similar store-bought pillows. Now just curl up with a good book or movie and a hot cup of tea.