Would you be willing to walk away from your current role, on the heels of a bet?
That's exactly what serial entrepreneur Chieh Huang, Co-Founder of Boxed.com, did and it's landed him in not one but two successful business ventures. When host, Kristen Meinzer spoke with Chieh about his career, he shared his not-so linear path of how he's launched disrupter companies in extremely competitive markets.
Chieh and his friends left their day jobs (with benefits, we might add!) to launch a video game studio on a bet that mobile games would be the next big thing. Armed with his 2G cell phone at the time, Chieh knew that smart phone technology would continue to scale and he and his friends had a hunch that the demand for smart phone gaming would naturally scale alongside it.
Their hunch more than proved to be accurate, as their newly launched business venture gained momentum and was later acquired by a larger gaming company in the market. This was only the beginning for Chieh and his friends.
What was next, you ask? Yes, you guessed it. There would be yet another bet that would lead to launching a business.
This time, however, it wouldn't be in the category of gaming. Leveraging the hypothesis of their first launch, Chieh and his friends saw another opportunity to meet a demand for consumers by leveraging smart device technology.
In another highly competitive market, they saw a gap to fill that would give consumers access to essential everyday products, in bulk, at lower prices, with just a few clicks from their phones. You may be asking, do consumers really need another online store where they can purchase toilet paper, in bulk? The answer to this question, is without a doubt, yes. Yes, we do.
Chieh and his co-founders found a way to stand out in the crowd by leveraging AI technology, and the power of datasets, to create a seamless and convenient user experience. If that's not enough, they elevate the customer experience in adding hints of personalization into each order. He also shared how they've built a company culture, within Boxed.com, that's increased employee retention by carrying the "putting others 1st" model into their relationships with their employees.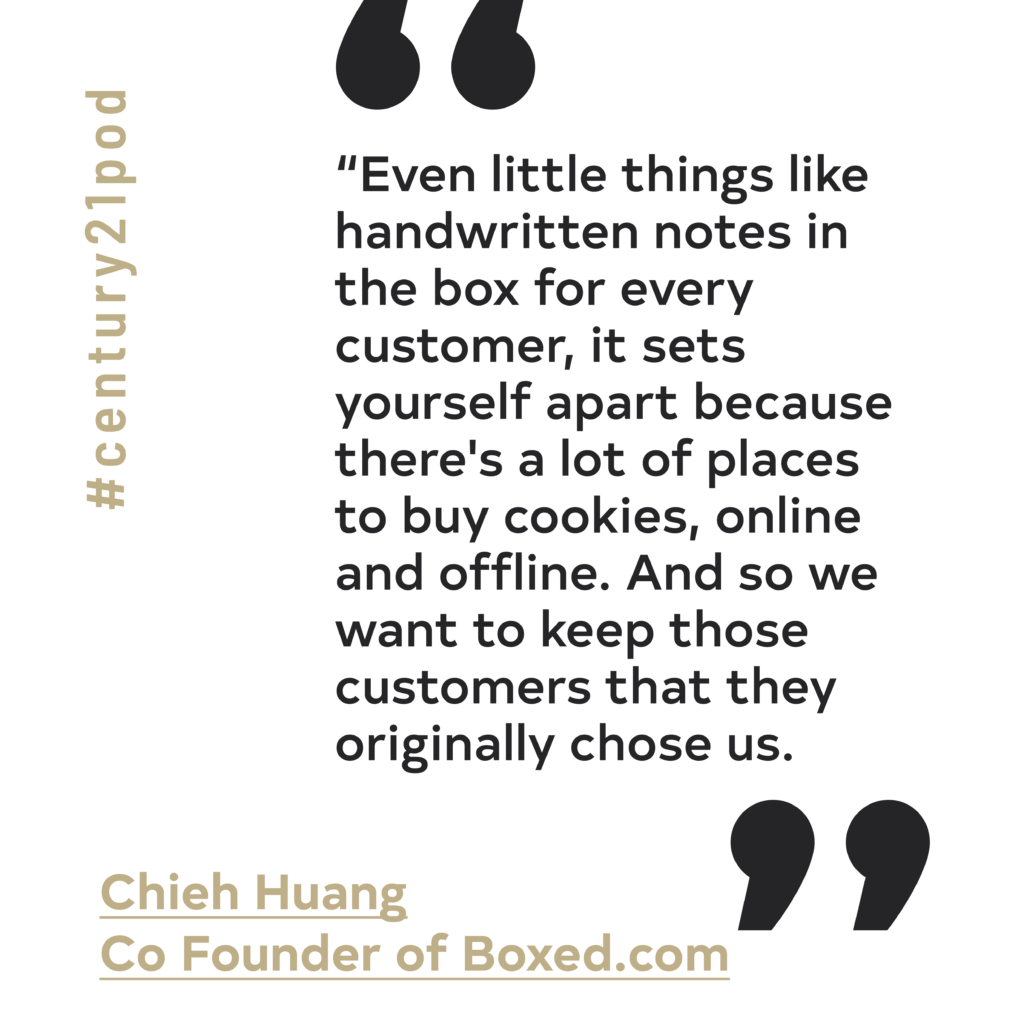 In this episode, Chieh shares how you can enter a saturated market, find a niche, and defy mediocre customer experiences, within the walls of your company and beyond. Listen to this full episode of season 2 of The Relentless, and #jointheconversation on how you can innovate to put customers first.