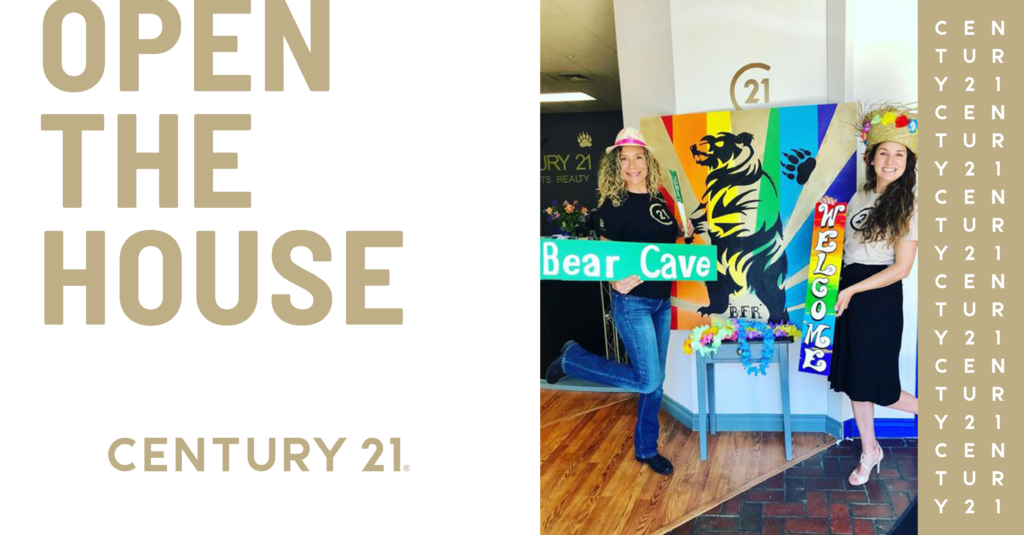 CENTURY 21 Bear Facts Realty celebrated their grand opening in June of 2021, marking a full 8 months after Broker/Owner Juan Sanchez made the decision to affiliate with the Brand. The timing of launching a new business in the height of a global pandemic might make many wince, but for Juan – the affiliation with the C21 Brand came at the exact right time.
We recently sat down with the leadership team at C21 Bear Facts Realty: Juan, a self-described "real estate baby" (his Aunt was the first Latina real estate broker in the state of Colorado), and David Walsh, Broker and Education Director. Their tenured real estate experience is only matched by the passion and energy they exude in support of their vision. Over the course of our conversation, one thing became very clear: Juan and David are on a mission.
Promises made, promises kept: The C21 Bear Facts Realty Philosophy
C21 Bear Facts Realty was inspired to elevate the agent experience as the result of a disconnect they observed in the industry – agents would get promises from brokerages to incentivize them to join their companies, and ultimately these companies were not able to deliver. Juan saw a way to defy these expected results and "fill that hole." The opportunity was simple: be agent-first. From that insight came their goal: to build a team that truly understands their agents and provide what agents need for success. This requires addressing two key questions, "what motivates this agent to achieve their goals?" and "how can C21 Bear Facts Realty curate coaching and training opportunities to fit the individual agents' needs?"
This agent-first mentality expands beyond what they're able to provide to make an agent a success, it's also about aligning with the right agents who support what they're trying to build. Juan is passionate about affiliating people who sound like, look like and think like the clients they're serving. For the Denver market, many cultures are represented – the 2010 Census reported 68.9% White, 31.8% Hispanic or Latino Origin, 10.2% Black or African American, 3.4% Asian, 1.4% American Indian or Native Alaskan, 0.1% Pacific Islander or Native Hawaiian, and 4.1% two or more races. In addition, making it to many "best places to live" lists over the past decade, the Denver area is also very inclusive in their support of the LGBTQ community.
"It has been inspiring to see the growth of our new office since October 2020. As a diversity-based, Latin-owned and LGBT-run new business Juan and I felt strongly about our role in the community and the importance of our agent family being as representative of the broad spectrum of clients they serve."

David Walsh, CENTURY 21 Bear Facts Realty
Leap of faith: Supporting Community
Juan and David are both very active in their communities and truly serve as complements to each other. David takes more of an unstructured approach to community involvement, often fostering great relationships from the places and events he engages locally. Juan on the other hand is more structured in his efforts and has lent his time and support to organizations that include NAHREP, LGBTQ Real Estate Alliance, American GI Forum, League of United Latin American Citizens, Hispanic League and the Imperial Court Board of Directors…just to name a few. Regardless of their path to giving back, the COVID-19 pandemic found the perfect opportunity for them to align with the community in a different way. Using their platform, they sought out other LGBTQ and minority owned businesses to support. As Juan states, "Many LGBTQ companies were in the weeds trying to survive hard times. We took a leap of faith that when helping others, it will come back to you." This grassroots approach to building up their community has resulted in approximately 12 different partnerships they leverage for everything from real estate photography to closing gifts. As this wasn't something they could accomplish in person due to COVID, SEO and social media became a key part of their strategy in keeping a pulse on the community, outreach, and even recruiting. Through these efforts they have created a space of empowerment, pride and inclusion that extends beyond their affiliates. Juan recounts the story of a photographer they partner with who recently came out and shared with him a sense of happiness that he can "just be himself" when he enters their office, stating that he's been closeted for so long, coming out personally and professionally has made the entire experience easier.
Culture Call: Show up as your authentic self
The word of the day is intentionality. For David, that's what he believes separates the say-ers from the do-ers. His advice to any local business, "be intentional about looking at what's going on outside in the bigger world, not just your office." For C21 Bear Facts Realty, intentionality takes on a couple of different meanings in support of their agents:
Being intentional with removing limitations from agents to make it comfortable to do business with who they most identify
Being intentional in the way they recruit, who they choose to work with and understand the impact of the changing demographics and habits of consumers
Being intentional about how the leadership team supports their agents – whether that's on the personal front as a counselor or coach, or on the professional front in providing new pockets of business for the agents to experience.
The results speak for themselves; C21 Bear Facts Realty has recruited 22 agents since joining the brand and they attribute this to their own abilities to show up as their authentic selves and to encourage and support others in their office to do the same. David put is best in saying, "If we're going to claim to be diverse – we need to look, sound and think that way."
Doing it my way: Why C21
Juan and David put out a bold mission. They intend to be the flagship diversity franchise office in the west for Century 21 Real Estate. They believe so passionately in what they stand for, and when engaging with the C21 Brand, learned what that support can really look like to achieve these goals. C21 Bear Facts Realty is part of the Inclusive Ownership Program, an effort from the C21 Brand to support and empower brokerages owned by a minority-classified leader that chooses to affiliate with the brand.
With a lifetime of experience in the real estate space and all the highs and lows of the markets they've pushed through, Juan and David did not need help with their chosen expertise or direction, but they did seek a strong brand that could support their efforts. They both experienced Aha! moments so far on the journey of affiliation with C21. For David, the C21 Brand alignment has been a freeing experience. After years of affiliating with major competitors and having to abide by specific types of messaging or work within a culture he did not feel fit, he is now given the space to craft his own messaging for recruiting and building community. As for Juan – after being an independent Broker for 14 years, he enjoys the fact that they don't have to recreate the wheel with training. With the C21 Brand's renowned educational content in place, Juan believes this has opened his time to concentrate on the individual agents to help them grow.
We can make the local decisions that are right for our marketplace, but we have the infrastructure there sitting behind us to allow our agents to do what they need. Gives us credibility we wouldn't otherwise have.

Juan Sanchez, CENTURY 21 Bear Facts Realty
Their decision to partner with the C21 Brand ultimately boiled down to an aligned mindset and the ability to leverage that name recognition in their local market, all while being given the support to be true to themselves and their business and accomplish the goals they look to attain.
_
These days when this team kicks off their day, the mentality they take is "what can be done?" vs. "what has to be done?" A slight shift in mentality with major impact. And a lot can be done from their perspective. The way people live in this post-COVID world is fundamentally changing what work and home mean. In addition, the transition to more inclusion across the country is a force to be reckoned with. Juan and David believe that these national shifts in mindset are here to stay, and for their part – they intend to do what they can to make waves in support of those transitions in their local market by empowering their agents and making the dream of home ownership a reality for everyone. What's more relentless than that?