At CENTURY 21, we can't help but notice how excited people are about their hometown's pro football team. That got us thinking: Can a winning team raise the profile of a city? Can game day rituals, energized fans and star players drum up interest from homebuyers?
Armed with these questions, we decided to do a little research. It turns out, our hunch was correct! Take a look at this infographic which illustrates a clear correlation between winning pro football teams and the health of that city's population and real estate market.
Key Findings:
Scoring a Real Estate Touchdown. Four of the five cities with teams that went from a losing record in 2010 to a winning record in 2011 saw average home sales prices increase between 2010 and 2011.
Super Win, Super Growth. After winning the championship, Green Bay, WI saw a population growth of 1.7% in 2011, compared to runner up, Pittsburgh's 0.6% growth.
The Tim Tebow Effect? After Tim Tebow was drafted by the Broncos in April of 2010, Denver saw its home value index grow 1.46% before Tebow was traded in March of 2012. Since Tebow was signed by the Jets, New York City has seen its home value index grow 3.87%, perhaps thanks to its newest resident.
Losers Never Win. Going from a winning record of 10-6 in 2010 to a losing record of 2-14 in 2011, Indianapolis, the home town of the Colts, saw a 19.8% decrease in home sales.  However, if the #1 draft pick's play in the preseason is any indication of how the Colts will perform this season, things are looking up for Indy.
Sell Out & Sell High. Eight of the nine cities with a team that had attendance rates of 100 percent or more in 2011 saw average home sales prices rise that year.
Have you seen these trends in your hometown?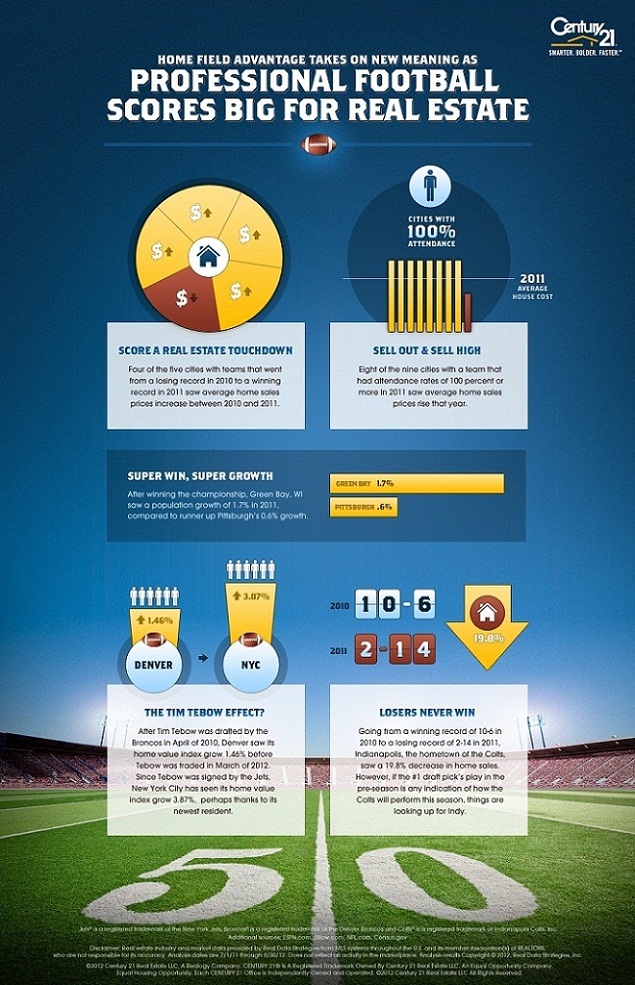 ©2012 Century 21 Real Estate LLC, A Realogy Company. CENTURY 21® Is A Registered Trademark Owned By Century 21 Real Estate LLC. An Equal Opportunity Company. Equal Housing Opportunity. Each CENTURY 21 Office is Independently Owned and Operated.
Disclaimer: Real estate industry and market data provided by Real Data Strategies from MLS systems throughout the U.S. and its member Association(s) of REALTORS, who are not responsible for its accuracy. Analysis dates are 7/1/11 through 6/30/12. Does not reflect all activity in the marketplace. Analysis results Copyright © 2012, Real Data Strategies, Inc.
Jets® is a registered trademark of the New York Jets, Broncos® is a registered trademark of the Denver Broncos and Colts® is a registered trademark of Indianapolis Colts, Inc.
Additional sources: ESPN.com, Zillow.com, NFL.com and Census.gov.
©2012 Century 21 Real Estate LLC All Rights Reserved