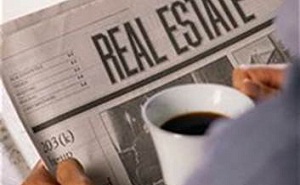 Good morning and happy Friday!
Each Friday we share with you the must-read, real estate news of the week. We've got everything you need to know to stay on top of breaking industry news and trends.
Grab your coffee and get reading!
"Unfamiliar Feeling For Housing: Optimism"
This week, our very own Tony Geraci of CENTURY 21 HomeStar in Cleveland, OH was quoted in this article from the Associated Press.  "Even in parts of the country where the economy is troubled, real-estate agents are experiencing an improvement. At Tony Geraci's real-estate agency in Cleveland, sales are up 25 percent over last year, and he has added about 60 agents to the 175 he already had." Continue reading . . .
"How To Win A Real Estate Bidding War"
FOX Business sought expert advice from our very own Mike Litzner of CENTURY 21 American Homes for this piece on winning the real estate bidding war. "An all cash offer is a strong move to win a bidding war, but since that's not an option for many of us, simply putting more money toward the down payment will show seriousness and help secure a mortgage easier. The bigger the cash down payment shows strength." Continue reading . . .
"10 Prime Markets For First-time Homebuyers"
A new special report by Inman News reporter Andrea Brambila, "10 Prime Real Estate Markets for First-Time Buyers," identifies the 10 metro markets with the greatest share of first-time homebuyers relying on mortgages backed by the Federal Housing Administration (FHA) in 2011. Continue reading . . .
"International Home Buyers Spend 35% More Per Transaction"
According to the National Association of Realtors (NAR), home buyers from outside of the United States spend an median price of $252,000 per transaction, while the median price tag of those inside of the borders is $165,000, a difference of $87,000, or 35 percent. For Realtors, that represents an average of $2,610 more per transaction when working with an international buyer at 3.0 percent commission. Continue reading . . .
"Stand Out With Your Email Marketing"
Want to wow prospects? Want to retain your existing clients and drive referrals? Learn how to make your email marketing stand out with this great piece from Inman Next. Continue reading . . .