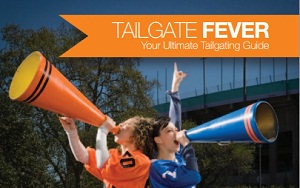 We are less than 30 days from the big game on Sunday February 3rd and it's time to start preparing!
CENTURY 21 and Homes.com are pleased to provide all CENTURY 21 System members with this customized tailgating guide called "Tailgate Fever: Your Ultimate Tailgating Guide." Download your copy here.
Today we're talking about set up. What decor do you need to throw the best Super Bowl party in town? Read on.
Channel The Stadium
You may not be able to sit on the field in New Orleans, but you can recreate the stadium feeling by working traditional football colors into your party decorations. Use white and black from the referee jerseys, white and green to mimic the turf, white and brown for the game day ball and yellow in honor of the goal posts.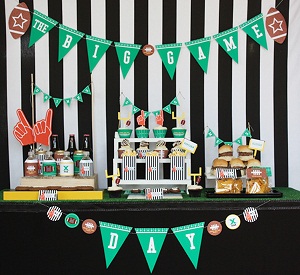 All of this can be easily achieved with construction paper or print outs you can find online. If you're not into DIY, your local party store is stocked with football themed decor in honor of the big game.
Decorate With Team Colors
If your team makes it to the big match up, decorate with signs and banners in your team colors. You can even hang team shirts and jerseys!
Consider foods in your team's colors. Are you a Green Bay Packers fan? You can serve guacamole with yellow pepper slices for dipping. Are you a Texans fan? Serve strawberries and blueberries with whipped cream.
Can't think of a dish for your team? Using food coloring is an easy, simple and delicious way to change the color of your dish. This works particularly well with frosting for cake, cupcakes or cookies.
Make Over Your Serving Dishes
Instead of serving bottled and canned drinks in their original packaging, rebrand water, soda, juice or even beer with custom football themed or team logo wrappers. You can also wrap serving bowls and platters to make every element of your party feel like it's part of the big game.
Do you have a tailgating decor tip? Leave it here in the comments section!