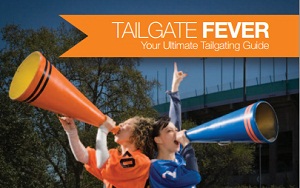 We are just 48 hours away from the big game. For the last few weeks we've been talking about everything you need to know to throw the ultimate Super Bowl party. Use this post as a cheat sheet to print and take to the party store and grocery store to ensure you have the best in decor and snacks for kick off.
For even more ideas, download "Tailgating Fever: Your Ultimate Tailgating Guide" from CENTURY 21 and Homes.com.
Ready? Set. Hut!
Channel The Stadium
You may not be able to sit on the field in New Orleans, but you can recreate the stadium feeling by working traditional football colors into your party decorations.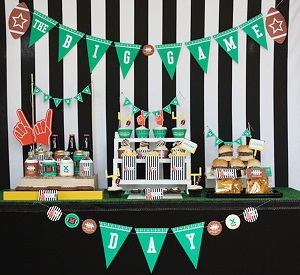 Use white and black from the referee jerseys, white and green to mimic the turf, white and brown for the game day ball and yellow in honor of the goal posts.
All of this can be easily achieved with construction paper or print outs you can find online. If you're not into DIY, your local party store is stocked with football themed decor in honor of the big game.
Decorate With Team Colors
Are you a 49ers fan? A Ravens fan? Decorate with signs and banners in your team colors. You can even hang team shirts and jerseys!
Consider foods in your team's colors. For example, if you're a 49ers fan, serve candied apples, red peppers with dip or tomato salad.
Can't think of a dish for your team? Using food coloring is an easy, simple and delicious way to change the color of your dish. This works particularly well with frosting for cake, cupcakes or cookies.
Create A Make-Your-Own Chili Bar
Start game day by putting the chili in the crock pot. You can leave it on all day, ensuring you have the best flavor come serving time.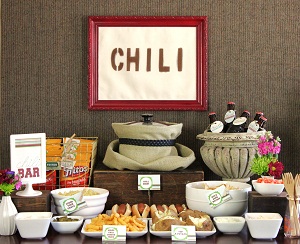 Next, load up the kitchen counter or dining room table with toppings. We recommend:
Diced tomatoes
Jalapenos
Scallions
Shredded cheese
Corn chips
You can also added baked potatoes to the bar, a perfect vehicle for those very same toppings.
End With A Sweet Treat
What could be more fun than chocolate covered cookies in the shape of a football?
Nothing! It does take a steady hand to ice the laces on each cookie, but after that, pick one up, toss it to a friend and enjoy the sugar rush!
Are you ready for game day?