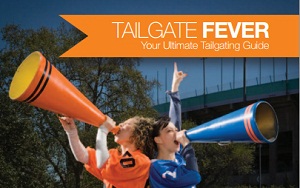 We're just nine days away from the big game! On Sunday February 3rd the San Francisco 49ers and the Baltimore Ravens will face off in the Super Bowl in New Orleans. As you know, the CENTURY 21 brand will be front and center during the pre-game and debut a new ad during the first commercial break of the third quarter. Are you ready?
Each week we've been sharing with you tips from the CENTURY 21 and Homes.com tailgating guide which you can download and customize to share with your clients and prospects. Get your copy of "Tailgating Fever: Your Ultimate Tailgating Guide" right here.
First we talked about how to decorate your home for the big game. Last week we shared a fantastic dinner idea – a chili bar – to wow your guests (and create minimal prep time for you). Today we're talking about a boost for the second half of the game, a post-halftime sugar rush!
Game Day Push Up Pops
Do you remember push up pops from when you were a kid? They were always a popular choice at the ice cream truck in the summer, but you can also make a version in the winter.
The tailgate guide has a superb recipe for apple crunch push up pops that layers apple cake, pecan crunch filling and whipped cream – topped with a plastic football for garnish, of course! These are especially fun if you have kids watching the game with you. Get the recipe here.
Game Day Football Cookies
What could be more fun than chocolate covered cookies in the shape of a football?
Nothing! It does take a steady hand to ice the laces on each cookie, but after that, pick one up, toss it to a friend and enjoy the sugar rush!
What are you planning to whip up for game day?