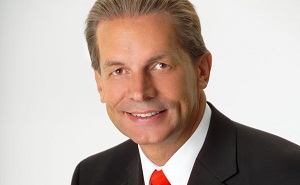 Today in our "Meet the Agent" series we get to know Bill McCabe, broker/owner of CENTURY 21 Executive Realty in Schererville, IN. You may recognize Bill as one of the stars of the 1990's CENTURY 21 television commercials!
Indiana Business Magazine just named Bill one of their "16 Professionals to Watch." Read on to hear how his first job as a paper boy paved the way for his strong work ethic and how a passion for boating lead him to real estate.
C21: You have been working in the business for over 25 years. How did you first get started?
BM: I started at a CENTURY 21 office in St. John, Indiana called CENTURY 21 McCarthy Realty.  I grew up in the marine industry and had a couple of other CENTURY 21 brokers I sold boats to and took care of.  They always said they thought I would be good in real estate.  I wanted to earn some extra money to buy out the boat shop and worked 4-5 days in real estate for the first year or so, and another 25-30 hours a week in real estate.  I started making good and liked it and my broker at the time, Sharon McCarthy encouraged me to leave the boat business and do just real estate.
C21: Do you remember your first sale?
BM: Yes.  It was a small home in Cedar Lake Indiana to a first time buyer couple who were friends of my wife.
C21: Your area of focus is Schererville, Indiana. What makes this real estate market special and unique?
BM: The Northwest Indiana area that Schererville is part of is a great area and an alternative to a lot of people who work in Illinois.  We are a 45-60 minute commute from Chicago, and have great schools and much lower property and income taxes.  Like Chicago, we have some tough winters, but it is one of the best places I can think of in the summer and fall.
C21: If I had only one day in Schererville, what are the three things I must see/do?
BM: Being that I grew up in the marine Industry, we have one of the best boating locations in the United States and I live part time in Naples, Florida and say that!  Lake Michigan as you head north toward Michigan has beautiful soft sandy beaches, crystal clear water and unbelievable views of sand dunes.  I am also a pilot and fly a couple of times a week and enjoy the outstanding views of Lake Michigan to the north. We also have Indiana's 3rd largest natural lake, Cedar Lake, at the southern end of our county.  We have great shopping in Merrillville along with many fine restaurants to finish out the day.
C21: One of your areas of expertise is new construction. Tell us more about that.
BM: When I started in real estate I took some great CCIM classes and wanted to pursue commercial. By accident I got involved selling off developed lots and then picked up a builder (from door to door farming which is supposed to be new trend!) and became very big selling new homes and partnered in developing subdivisions to provide lots to builders my agents and I handled.
C21: Your office also specializes in HUD sales. What makes these deals different?
BM: When the recession hit and new construction dried up, we had a lot of talent and excess capacity to handle a lot of unit sales.  I started with Freddie Mac and luckily picked up HUD homes too for several counties.  HUD split their business up between three asset management companies and we handle all of Pemcos business in seven counties.  We all must provide quality service to a traditional buyers and sellers and have a great reputation to remain in this business, we have to do the same to keep this business.  They have relatively short response times and we bend over backwards to meet them and please their sales specialists.  We also take our BPO's very seriously, and get graded every month on how close the sales price is to our BPO's along with how quick we do our tasks and ultimately how fast the property sells.  So it's not easy, but if it was, everyone could do it!
C21: Name the three qualities necessary to succeed in real estate.
BM: 1) Focus. You really need to work hard and get a lot done every day to be successful.  If you are going to work 8-10 hours a day-you need to figure a way to get 10-12 hours production out of yourself.  That probably ties into personal organizational skills as well.
2) Work ethic. My grandpa and dad fortunately instilled that into me at a young age.  In grade school I had up to three paper routes at one time and worked later as a caddy and would do 36-45 holes a day before I started in the boat business in the 7th grade.  When I interview an agent, I may tell them how potentially great our industry is, but I also tell them it requires a lot of hard work.  I think too many people think we just show up and get these huge checks.  I like to set the expectation bar high!
3) Communication skills and prospecting abilities. Let's face it; people like to do business with people they like.  People that communicate well, that are honest and that help other people succeed are well liked.  But if you're the best communicator and don't communicate by prospecting, than you are a "secret agent" and will never make sales and money!
C21: Our company mantra is "Smarter. Bolder. Faster." How do you embody the mantra in your day-to-day work as a broker/owner?
BM: I think a lot of what I describe in myself and our agents is that we don't sit around and wait for the business to show up.  And if you ever followed me around, I move fast and always have.  When I am at work, we work and produce!
C21: Word on the street is you were featured in CENTURY 21 television commercials. When was the shoot and how did that opportunity come about?
BM: In the mid 90's, the CENTURY 21 team decided to use real agents in their commercials.  They offered the opportunity to several top agents.  I had to go to Chicago and do a casting interview on tape.  About 10 of us got selected and we all went to Hollywood and made 5-6 commercials, of which I was in three.  They rented houses, had makeup, hair and wardrobe trailers like any other show set.  They ran on the three big networks for about 1 ½ years.  It was a lot of fun, and it was fun to be at breakfast with shows like Good Morning America on and see yourself on TV!  Some of those agents, like Marty Rodriguez in California and Glenda Lagois in Michigan have become lifelong friends. We have a special bond from doing the commercials.
C21: If you could give one piece of advice to a young person starting out in the real estate business, what would it be?
BM: I have a hard time with one word answers!  You need to work hard at least six days a week.  You need to prospect. You need to get lots of listings of different types and prices and you need to treat other agents as you would a million dollar buyer because if you help them and make their job easy, they will sell your listings.  Those agents are not your competition; they are all working for you and making you successful!
C21: When you're not working, what do you like to do in your free time?
BM: I love to boat and do that at our summer home on Lake Wawasee in Indiana and in Florida in the winter.  I still intensely slalom ski at 56, snow ski in Colorado, scuba dive, enjoy spending time with my three kids, grandogs and grandson and like to remodel homes for mental therapy.  I have been married for 31 years to a great wife and enjoy time with her and play golf-but prefer only nine holes because I can't justify 4-5 hours, but can for two hours.
C21: Continue this conversation with Bill via email, bill@bmccabe.com or on his website, www.bmccabe.com.