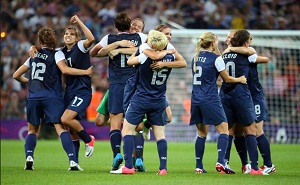 Century 21 Real Estate Congratulates the U.S. Women's Team on Their Gold-Medal Performance
Whether you call it soccer or football, one thing is not up for debate: this year's Olympic Tournament was one to remember. Living up to many of our expectations, the USA women met Japan in the gold medal match, as they looked to avenge their 2011 World Cup loss to Team Japan.
"It took a tremendous amount of determination, spirit and grit to overcome so many worthy opponents and win their third consecutive Olympic gold medal," said Bev Thorne, CMO, Century 21 Real Estate LLC. "As a sponsor of these inspiring athletes, we could not be more proud of what these 18 women and their coaches have achieved."
The gold medal match capped off an incredible run for the U.S. women as they defeated France, Colombia, Korea DPR, and New Zealand to reach the semifinals against Canada.
The CENTURY 21 brand has been highly visible throughout these Olympics and these soccer games, with more than 110 commercial placements during the MSNBC and NBC Sports Network Olympic broadcasts.  To build upon that pride within the CENTURY 21 System, we have continued to encourage local activation, viewership and viewing parties.
As the global leader in real estate, Century 21 Real Estate is proud of all 2012 Olympians from around the world, and we're thrilled to celebrate the gold medal win for our U.S. women's soccer team. As we look forward to 2013 and the second year of our sponsorship, we also look forward to celebrating many future victories with U.S. soccer.
*Image courtesy of the New York Times.