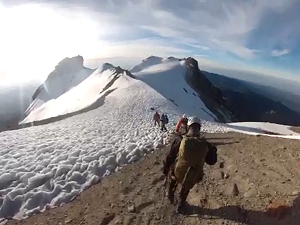 Good morning! As we shared yesterday, CENTURY 21 CEO Rick Davidson and the Climb for Kids team successfully reached the summit at Iztaccihuatal in Mexico.
Today they are resting in anticipation of their second expedition to Pico de Orizaba very early tomorrow morning.
While resting, the team was able to share two videos with us.
This first video was shot by Brendon Payne of CENTURY 21 The Harrelson Group and shows the spectacular views from the summit. If you look closely you can see the volcano Popocatepetl firing off in the distance.
In this next video, watch as the team triumphantly descends from the summit. CEO Rick Davidson is the climber wearing the green back pack and the white helmet. Check out that incredible view!
Good luck to the Climb for Kids team as they head out on their second expedition tomorrow. If you haven't had a chance to donate to the team, you can do so right here. All funds raised support CENTURY 21 philanthropic partner Easter Seals.
To the summit!