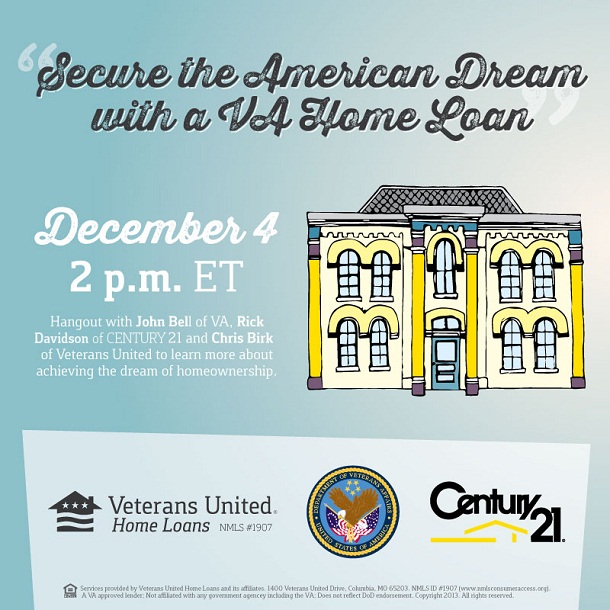 Century 21 is joining Veterans United today for a Google+ Hangout to discuss veterans and homeownership. The conversation will focus on insights for returning veterans looking to purchase a house, the roadblocks they may face and the resources at their disposal, as well as answering questions from participants.
Rick Davidson, CEO and president of CENTURY 21, and Shirley Morrison, broker/owner of CENTURY 21 Sweyer and Associates, will participate in the Google+ Hangout to answer questions and provide advice to veterans about buying a home.  Davidson, recently elected as Chairman, International Board of Directors at Easter Seals, will also speak to the philanthropic organization's resources that veterans can use to transition back into civilian life.
In addition to CENTURY 21 representatives Rick Davidson and Shirley Morrison, the following experts will participate in the Hangout:
•    Patsy Molloy Taylor – Assistant VP, Marketing and Corporate Relations at Easter Seals
•    John Bell – Assistant Director of the VA Home Loan Program for the Department of Veterans Affairs
•    Chris Birk – Author of The Book on VA Loans and Executive Editor at Veterans United Home Loans
•    Sam Reeves – Senior Real Estate/Homebuying Expert at Veterans United Home Loans
•    Sarah Hill – Chief Storyteller at Veterans United Home Loans
According to a recent survey conducted by CENTURY 21 and Harris Interactive, 75 percent of military families cite owning a home as one of the most important things to service members upon returning from deployment.  Still, many veterans are in the dark about how to use their benefits and face other roadblocks in the path to homeownership.
Learn more about how you can help veterans on their pursuit of homeownership by tuning into the Google Hangout live at 2:00pm ET. Watch here.