Have you heard the news? Well, in case you missed it, the CENTURY 21® brand has recently launched a new podcast called The Relentless.
This podcast is on a mission to team up with thought leaders across industries to explore the ways we can answer one (seemingly) simple question: what makes a salesperson extraordinary?
Hosted by Dr. Julie Gurner, we are excited to create a platform where entrepreneurs can learn from inspiring trailblazers as they discuss topics on how they embrace change, overcome hurdles, and of course, how these innovative leaders remain relentless. Meet our host, Dr. Julie Gurner
Dr. Gurner has spent a great deal of her professional career studying the behaviors of what she calls, "the ultra-successful" and she applies what she learns to empower clients to elevate their business growth and opportunity. With an extensive background in psychology she is "obsessed with how the brain directs human achievement."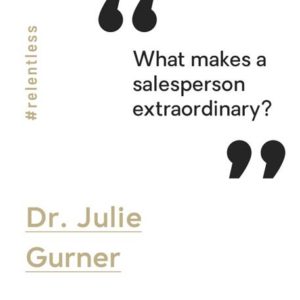 Julie is no stranger to real estate, she was a Senior Editor, Sales Strategy and Insights at theclose.com, which is a real estate site for established agents to take their business to the next level. Her thoughts have also been featured in TIME, Forbes ®, NBC News, and Vice.
Julie's connection to and understanding of the mind and behavior of successful people is what makes her perfect for The Relentless. Her expertise allows her to tie the success of people to the way they think which will make each episode impactful and empowering.
More about The Relentless podcast
Each episode of The Relentless will focus on a different pillar that is essential to a salesperson's success.
Whether you work in real estate or are simply interested in what it takes to take your skills as a salesperson to the next level, you will leave each episode entertained, informed, and motivated.
Visit The Relentless website and join the conversation.